Discover more from Confessions Of A Terrified Creative
Surviving as a creative, amongst anxiety, overwhelm, and hustle-culture.
Over 2,000 subscribers
Falling in (and out of) love with a painting medium
Weekly letter #40, on switching mediums, daily painting, and putting the art first.
This letter has been a long time coming. I've been meaning to write it for several weeks, but then something's always come between. So it feels really good to finally be speaking to you again. 🖤 How are things with you? How's June treating you?
There's so much going on over here that I barely know where to start. Getting a bit old saying that now, but my life's been turbulent these past six months or so. Not only healthwise but also career wise. I've been feeling kind of on the verge of some kind of evolution, but I haven't been able to make up my mind what changes I want to make. And I've been wanting to do a hundred and eleven things at once. Make more art. Make more videos. Make more courses. Write more essays. Try this, try that. I'm just so damn impatient, one of my greatest weaknesses. 😭
Something really clicked for me a week ago. I was feeling overwhelmed, stressed out, and just low-key unhappy with my life. And I suddenly realized why. I haven't been painting. Hardly at all. In a long while. The very thing that turned my whole life around those years ago, and that I set out to do full-time for the rest of my life. The very reason I'm even here in the first place.
I've almost only allowed myself to paint when I've planned a video or a course around it. And that's always done in a very controlled and stressful manner, in front of a camera, with a specific end goal in mind. Painting to make art and painting to "create content" (gah, I hate that expression so much) are two very different things for me.
For many months, I've been aching to simply paint. I've been missing how my art practice was like in the beginning, when I drew and painted every day, kept an art journal, practiced like a maniac, and had the time of my life.
Since then, I've felt nudged in another direction. That of the influencer/content creator. I've been pushing myself towards that, because I've thought that to be the best, or even only, way for me to make a living. Even though I know it's totally possible to thrive as a fine artist. I just haven't felt confident enough to take those steps yet.
But a week ago, I got honest with myself. I realized I want to be an artist first and foremost. And a content creator/teacher second. And the moment I made the decision, I felt so damn relieved and excited. I have much work ahead of me now, like revamping my website a bit, releasing my next collection, upping my art marketing game, and holding my first exhibition. And I'm going to take you with me every step of that journey.
Another weird thing that's happened: I'm stepping away from watercolor a bit to learn oil painting!
I've been feeling more and more held back by watercolor lately. I've struggled to make art I'm genuinely proud of and would feel confident exhibiting and selling. My vision for what I want to create has been so far detached from my current skill level that I've struggled to feel motivated. As you might know if you've ever tried watercolor: this medium can be very difficult to learn and to control. And so unforgiving. That needn't always be a problem, depending on what type of art you want to make. But for my goals, it just started to feel insurmountable. I was tired of having my paintings ruined by one wrong move and then tossed onto the pile in the closet. I dreamed of painting big, but refused to try my larger sheets of cotton paper because I was conviced I was just going to mess those up as well. And I grew tired of feeling held back that way.
As you might know, I've made some awkward attempts at oil painting in the past, which ultimately led me to give up on it. I talked a bit about it in my video about my favorite artists. How I was essentially "relieved that oil painting wasn't my medium" because the skills of these artists overwhelmed and intimidated me, and "I'll never be this talented". Which is how I felt at the time. But simultaneously, I've been SO jealous of oil painters, wishing badly to be able to make art like that. And of course it's possible. These people weren't born great painters. We all start from the same place - from scratch. We all have to practice to get to that level. And it's totally a choice whether we want to feel intimidated, or inspired, when we see the talents of others.
Most of my favorite art right now, the stuff I drool over, and pin on Pinterest, and fantasize about making and owning... are not watercolor paintings. They're oil paintings. Big, bold, loose, buttery, glossy oil paintings of landscapes, animals, people. Oil paints have a way of beautifying everything, don't they? Even a boring still life of a bunch of orange slices or a cup of tea can look so damn captivating in oils. And I've decided to stop feeling jealous of oil painters and start getting inspired instead.
I'm not breaking up with watercolor. I still love it, for certain things. I look forward to doing smaller studies or illustrations with it. Maybe then I can stop taking it so seriously, and have fun with it instead. But I don't think I want it to be my "main" medium anymore. In my main painting medium, I want to feel free and capable and brave. I want control over my vision and my result. Oils give me that. I've practiced with them for a week or so now, and I'm completely, madly, freakishly in love. Obsessed, even.
It felt awkward in the beginning though, because oils work kind of the opposite way of watercolors. You work from dark to light instead of light to dark. There's no layering. At least not for me, since I prefer alla prima, where you paint it all in one go without waiting for it to dry. (Which for oils take weeks! I don't have that kind of patience, as we've established...) So it's a whole other way of thinking, and it's starting to click for me now. It's the parts I like about acrylic painting...but without the stuff I hate about acrylic painting. Like the quick drying time and how tricky they are to blend. 😅
Painting with oils feels sooooo gratifying. The luxury of taking my time. Of getting to make mistakes and fix those mistakes, without having to toss the painting away. I love the tactile feel of oils on my brushes. I love mixing them. I love the smell of them.
And I love the humbleness of being a beginner. Of eagerly planning my next painting. I've started a "one-painting-a-day" challenge. Committing to making something small each day is perfect for me now. I'm in an awkward identity crisis/transition period between art styles. Daily painting will help me get a lot of practice hours in, so that I can learn this medium quickly, and discover my own style of using it. I'm painting first thing in the morning, non-negotiable. And I'm having a blast trying out a wide array of subjects, seeing what I like and don't like.
Here's some of what I've created this past week: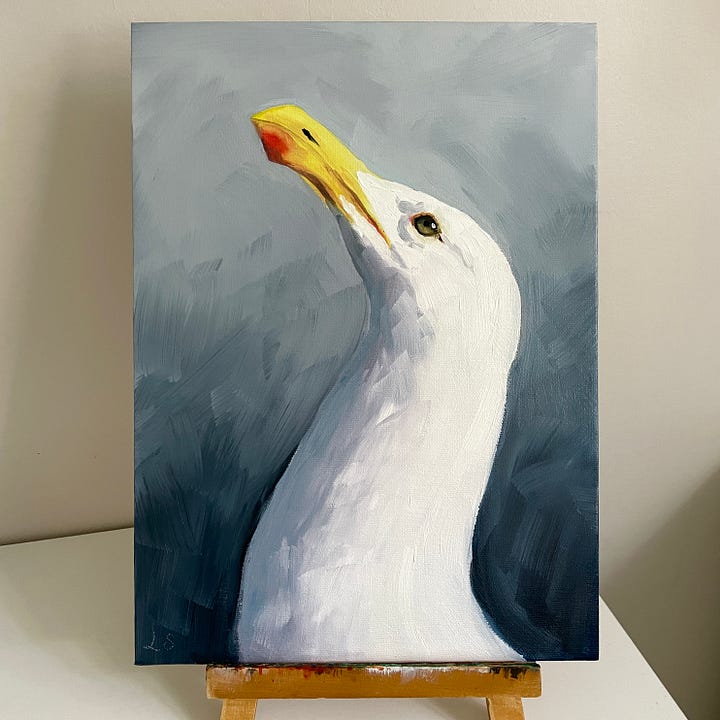 I used to hate painting landscapes in watercolor, but I love it in oils. And of course, birds. Always the birds. I get jittery when I think of all the birds I'm going to paint in oils...
I've upgraded my home studio to better accomodate oil painting as well, and I love the look and feel of it:
Some ledges to put paintings on.
A rack for smaller panels to dry in. (It's actually a dish drying rack from IKEA.)
And some new brushes and supplies. I'm using water-mixable oil paints, together with linseed oil. Feels like a gentler transition from the water-based mediums I'm used to.
My plans now are to paint like crazy throughout summer, and put most other projects on hold. Apart from writing to you each week. 😊
I have a lot to figure out going forward, but the art comes first. It has to come first from now on.
Have you experienced this as well? When the talking about the thing, and making content about the thing, and obsessing over how to talk about/make content about the thing suddenly takes up a lot more time than actually doing the thing?
If that's the case, then let this be a reminder (and permission) for you to focus on your craft, fall back in love with your art, and worry a little less about all the other stuff.
With love,
---
I've started a new series on my blog, which I hope to keep up with somewhat daily daily from now and over summer. Since I'll be painting something every day, I want to keep a record of my progress. And I might just as well do it in public.
This is very similar to what I did (privately) in the beginning of my art journey: Photograph and document the day's work, and reflect on what I learned from it. What I liked, what I messed up, what I'll bring with me into the next painting. It's immensly helpful, and also so much fun to be able to look back on later. And maybe it can help and inspire someone else that's on a similar journey.
If you ever see a painting there that you would like to buy, just email me about it. They're all for sale and very affordable. The prices will be listed in each post. 😊
---
Some favorite things:
Confessions Of A Terrified Creative is a reader-supported publication. To receive new posts and support my work, consider becoming a free or paid subscriber.