Discover more from Confessions Of A Terrified Creative
Surviving as a creative, amongst anxiety, overwhelm, and hustle-culture.
Over 2,000 subscribers
My art business makeover
Weekly letter #42, on photography, website makeovers, and art as a love language.
Hi there! Time for a mid-summer report. (I couldn't stay away from this place for more than a few weeks anyway...)
I've been staying at my family's summer house for 1 1/2 weeks, celebrating birthdays (lot's of Cancerians in my family 🦀), spending lots of time with my mom, bathing in the ocean, and oil painting. Apart from the weather being on the cold and rainy side, it was perfect. I recently bought a 50mm lens for my camera, which I used thoughoughly during my stay. Here are a few favorites out of the 400+ photos I took: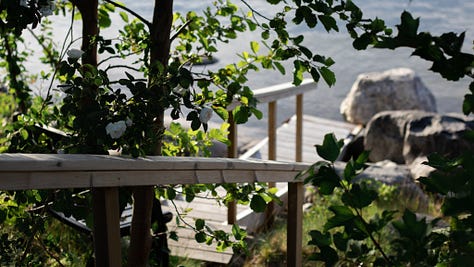 EVERYTHING looks stunning through this lens. The way it captures the light and blurs the background. I'm kind of obsessed with it. The main purpose for buying it was to take better photos of paintings for prints, but now I'll probably take a lot more photos in general. It was so pleasurable to walk around in this beautiful environment and capture everything in photographs.
In other news: Before going on vacation, I finished up my new website!
Before, it had been mainly focused around my content creation, but like I talked about in Weekly Letter #40, I wanted to re-center it around my art.
So I had a little studio photoshoot, to get some new photos of me, my studio, and my new oil paintings. Then I re-did the front page with a new header image, quick-links to my products, a new bio, et.c. I've switched print-on-demand partner from Printful to Prodigi, so that I can start offering higher quality Giclée prints. And I've created a new page for commissions, so that I can start accepting commission clients. Feels so exciting!
I've gotten quite a few requests to talk more about website design for artists, and I am definitely planning to. First with a blog post, and later, a video workshop. So stay tuned for that! I'm also thinking about offering website/art business audits in the future, for those who want more hands-on coaching. Is that something you would be interested in? If so, reach out to me by replying to this email. 🥳
How's the oil painting going, you ask? Been a bit quiet in the Oil Painting Journal since Day 17... Well, I might have gone at it a bit too hard. Got some back problems after those first two weeks and had to chill a bit. But I have continued painting more or less every day since then. First, three birthday paintings:
There's nothing more gratifying to me than gifting a custom made painting to someone I love. I guess art is my love language. 😌
Then I then went on to make some smaller studies:
These three are up in my shop for grabs right now, by the way! Thanks to their smaller size, they're quite affordable for being originals.
And while we're on the topic of art collecting: I know that probably the vast majority who read these letters are artists and creatives themselves, and not necessarily looking to buy art. That's one of the reasons I'm re-doing my email strategy a bit. I've incorporated a new email system into my website that's linked to another system than Substack. The reason for that is that I need to be able to create automated email sequences, and segment my audience. Things that Substack can't do. (Yet.)
If you go to my site now, you'll notice that you can self-select as either an art collector, an artist, or both. These new email lists are not meant to replace my weekly letters, but complement them. I will still write here most weeks like before. Substack is what I use instead of Instagram, Twitter, TikTok, Threads, and whatever else people are using right now. 😅 I share my whole life and business here: new painting releases and studio behind-the-scenes as well as art and business tips. If you like that, then simply stay subscribed and we're all good.
But! If you would rather (or also) like more focused updates about either new collection releases and artwork for sale, or my art/art business teaching and coaching, then I recommend signing up here up on my website. You'll then get those newsletters on top of these weekly ones whenever I'm releasing something new.
Hope this makes sense. It feels good to move towards a more focused approach. I know my emails run a bit long and all over the place, and I don't want to bore anyone with updates that are not as relevant to them. But we'll see how it goes.
Alright, that's all for now. I hope summer's treating you well, and we'll talk more next week. 🖤
With love,
---
New: Original oil paintings in the shop
---
Some favorite things:
This post (and Substack) by fellow Swedish blogger/artist Jessica Elena, about a phenomenon many of us artists can relate to:
Two summer romance reads that rocked my world: Same Time Next Summer, by Annabel Monaghan and Every Summer After, by Carley Fortune.
Misako Flodin's video on oil pastels, that made me SO eager to try them out some time soon: